Inside Layer Fabrics
The standard inner layer fabric is a 200 weight PolarTec® fleece - four times more wind resistant than standard polar fleece and super warm. This is a nice, thick fleece the equivalent of a mid-weight sweater - not a flimsy fleece.

Cherry 200 wt


Corsage 200 wt.


Trillium 200 wt.


Cerise 200 wt


Chile 200wt
SORRY OUT OF STOCK


Red Snowflake 200 wt


Smoke 200 wt.


Blueplum 200 wt.



Black 200 wt





Green Tea 200 wt


Heather Green 200 wt.


Medium Blue 200 wt


Camel 200 wt.


Gray Velvet Velour200 wt.
Looking for different colors or thicker fleece? For an alternative to down filling, or a special needs dog, See our Extra Protection Fleece Fabrics - $20 - $40 - $50. See also our "Which Coat Do I Need?" Page.

Trims add $15
Add a little flair to your custom coat with a beaded, braided, or edge trim! See our Jacket Trims Page for photos.

Collar/Turtleneck Options
Choose between a double fleece turtleneck collar that can be folded up over the ears (almost like a snood), or a turnback collar.
| | |
| --- | --- |
| | |
| Turtleneck Collar | Turnback Collar |
The turtleneck provides the most warmth. Since every coat is made to order, you can ask for a longer or shorter turtleneck to suit your dog's proportions. Many dogs appreciate the warm protection for their vulnerable ears! Some customers have remarked that it's a bit of trouble pulling the heavy turtleneck collar over the head - but it's worth it for winter warmth. However, if quick on-and-off is very important to you, or if you're ordering a light coat, then the turnback collar might be a better choice.
The turnback collar can be flipped back, as shown above, or pulled forward and secured with velcro (see picture below).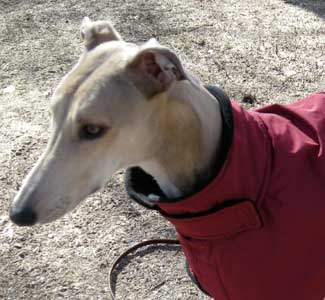 Turnback collar can be flipped up and secured, but will not provide as much warmth as the turtleneck
Tummy Warmer Options
The standard coat includes a chest/tummy warmer that fastens over the back with Velcro. The tummy warmer widens near the rear providing a snug wraparound quality which keeps the wind out of the chest and underbelly where sighthounds tend to have very little fur....the two straps velcro together on top of the back making putting the coats on and off easy with little bending and no fumbling under the tummy. Here is a photo of a standard coat with a tummy warmer: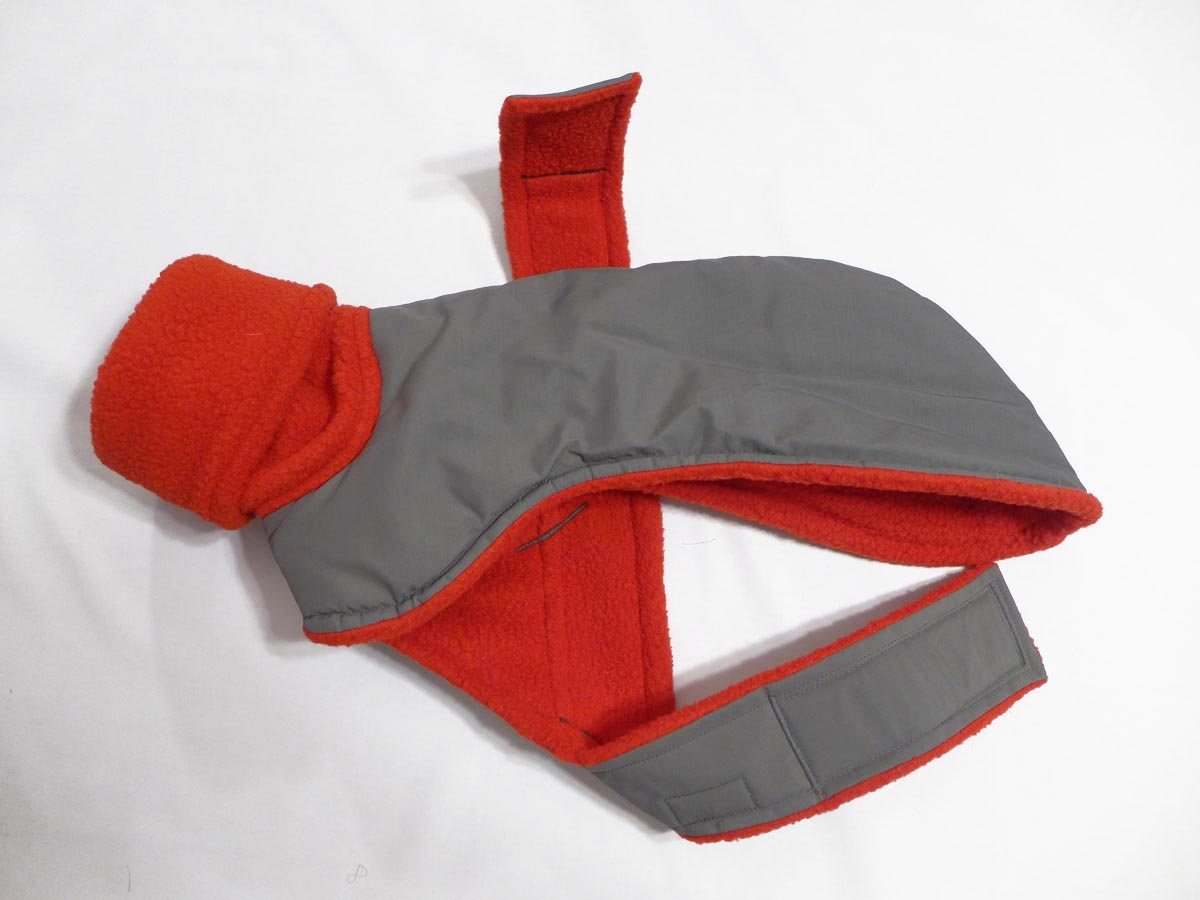 You may also choose only a narrow band that velcros around the waist, without the tummy warmer (shown in the picture, below):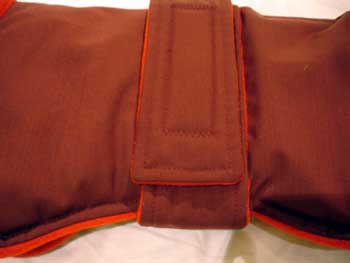 Leash/Harness Openings
You may choose from the following:
Leash opening only
Harness opening only - add $5
Both leash AND harness openings - add $5
Blue Willow raincoats and winter coats have waterproof outer fabrics, however, in extremely wet weather conditions, such as prolonged heavy downpours, it is possible for water to enter the seams. If you anticipate that your pup will be in these conditions, you may wish to order seam sealing. We use a flexible, urethane formula to seal the outer seams of the fabric across the back and (for turnback collars) the neck. Fleece turtleneck collars cannot be waterproofed.


> Questions? Contact us!