"Gracie's coat came this morning. It is beautifully made and well worth the wait.... beautiful work. Thank you!"
"Hi Sharon: Package just arrived. It is perfect. Tried it on B. and fits great... We are having rain here today so B. will be able to show off when I walk him. Thank you so much.

This was the first time I used the internet to find a Whippet coat and buy it without a referral so this was a big success."
The Rain Chaser 2-layer Goretex and fleece dog rain coat is beautiful, lightweight and weather resistant. Custom made to your measurements, with the very highest standards of quality craftsmanship. This raincoat is serious about keeping your dog warm and dry!
The OUTER LAYER is a Waterproof/Breathable™ fabric: waterproof, wind-resistant, and breathable.
The INSIDE FLEECE is manufactured by the mill that makes PolarTec™ fleece - four times more wind-resistant than standard fleece and very warm. This is a luscious, thick fleece. More about our fabrics.
Raincoats are comfortable in dry, chilly weather too! Great for spring and autumn.
Prices are depending on the size.
The Rain Chaser comes with these options:
Tummy warmer or simple band - no extra charge.
Turtleneck collar or turnback collar. The turtleneck provides a lot of warmth but has to be put over the head, which can slow down the on-off process. Without the turtleneck collar option it has a simple turnback flap, which can be fipped up and secured with velcro, as shown on the red coat, below.
If you anticipate prolonged exposure to heavy rain, we recommend the added seam sealer for $20.
more fabrics and options including reflective strips, trims, special fleece interior, and more.
Most importantly, the Rain Chaser is a fashionable, durable, and beautiful way to keep your dog nice and warm in the rain and chill.
> Let's Make a Coat!
> Questions? Contact us!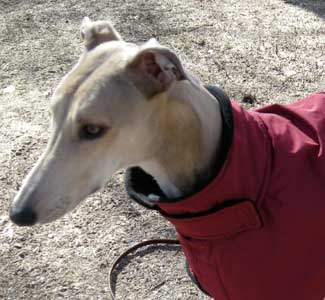 Our Rain Chaser coats can be styled for sighthounds ("English" style) or other breeds ("Western" style) depending on whether you want the coat to go down over the rump or not. Wondering whether you want a 2-layer raincoat or a 3-layer winter coat? Read our answer page: "which dog coat do I need" to learn more about the warmth level for each design.
> Let's Make a Coat!
> Questions? Contact us!